Serving All Pierce County & Surrounding Areas, WA.
Gutter Cleaning Services For Bonney Lake
Great Gutter Cleaning Bonney Lake, Wa.
Rain won't clear those gutters. Call on the pros at Legacy Gutter Cleaning Today
After the establishment of a co-op venture to provide electricity and tap water service to locals, Bonney Lake was incorporated as a town on February 28, 1949. From 1952 to 1972, numerous unsuccessful tries were made to disincorporate the community.
Between 2009 and 2015, the City of Bonney Lake and the Greater Bonney Lake Historical Society erected 13 historical markers, including one for the Naches Trail, an important immigrant and military route in the latter half of the 1800s.
Enlist a Pro for Your Gutter Cleaning
Legacy Gutter Cleaning is a locally family-owned business and operated, and we want to give you peace of mind when it comes to your gutters. Our goal is to create a lifestyle that Legacy Partners deserve and offer our members the client experience they deserve. The foundation of our dream is based on our vision, purpose, and mission: changing the destination of future generations by leaving a legacy.

Bonney Lake Gutter Cleaning Services - Professional & Reliable Gutter Cleaning Service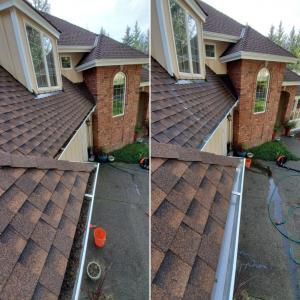 Gutter Cleaning
Legacy gutter cleaning is a service provider that provides gutter cleaning and guttering services, including gutter protection and flushing to leave gutters sparkling clean. We offer gutter cleaning for a number of different types of guttering, including residential and commercial properties alike. Trust us to provide you with gutter cleaning that will exceed your expectations each time we visit! Our guttering company believes in providing our customers with exceptional customer service along with high quality guttering service. For more information on Legacy Gutter Cleaning call 253-288-3239 today!
Moss Removal
If you are noticing moss growing on your roof, it is time to call a professional. Don't ever try to remove the moss yourself because, if not done correctly, you could end up with permanent damage that can cost far more money than hiring someone for roof cleaning. There are many different types of moss but they all present different problems. If you are not sure what type of moss is growing on your roof, please contact our office for an inspection today
Moss Treatment
Moss removal is not a simple process. Remember, moss thrives in moist environments with moderate to cold temperatures so it can grow practically anywhere with a little bit of moisture, shade, or both.
It is important to know that there are many different types of moss but they all present different problems. MossOut is an organic moss treatment product that uses live microorganisms to feed on the nutrients in the moss and kill it. Not sure what type of moss you have on your roof? Feel free to contact us with your questions.
Pressure Washing
Imagine spending all that time, effort, and money to build a beautiful concrete patio or driveway. But now, years later it looks dirty and stained, with dust and algae growing on the surface. You have tried power washing it yourself but ended up damaging the concrete and or your patio and needing to spend more money on repairs.
Now you just want your driveway or patio clean and sealed properly so that it looks good again and provides a nice place for outdoor entertaining and gatherings with family and friends. The best solution is to hire a professional like Legacy Gutter Cleaning . Our staff can restore your driveway or patio back to its original shine with no headaches.
Soft Wash
Soft Washing your building allows for clean up in and around difficult areas. These areas may be older, or brittle and require a soft touch when cleaning. How we do it here at Legacy Gutter cleaning is we start with an application of soft wash solution, followed by light brushing and rinse off. Perfect for around windows and along the roof trim. Please see our before and after gallery for examples of Soft Wash jobs we have completed.
We know that not everyone wants to clean around windows and roof trim, but enjoy having it done. Request a quote or give us a call for a free estimate on cleaning up your home or business. We are committed to providing excellent customer service with honesty and integrity at all times. We believe that by providing outstanding customer service, our company will grow as a result of our dedication.
For the best in gutter cleaning contractors in Tacoma, call Legacy Gutter Cleaning at (253) 245-1800 to connect with our local experts. We're here to answer your questions and concerns anytime, so contact us today!
Get A Free Quote