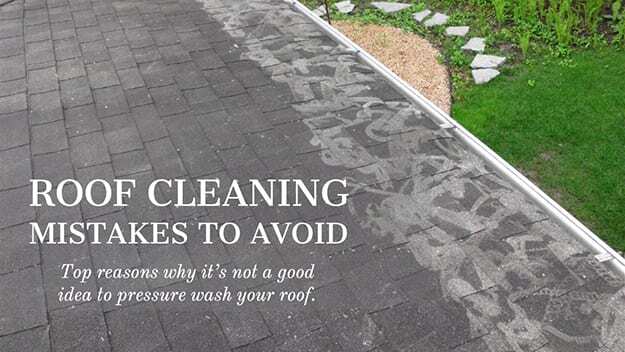 There are several reasons why someone may consider using a high powered pressure washer on a roof:
Brighten up/clean the roof
Remove moss that has built up on the tiles
Easier/quicker option
Less expensive than hiring a professional
TOP REASONS WHY IT'S NOT A GOOD IDEA TO PRESSURE WASH YOUR ROOFS:
The damage caused by pressure washing is not immediately noticeable. Pressure washing strips the granules from asphalt shingles. Therefore it strips away years of your roof's lifespan. These granules are what enable your roof to protect your home from the elements, like rain, wind and sun.
1. DAMAGE TO SHINGLES
Sure, blasting away that stubborn algae with a pressure washer will get those shingles looking sparkling clean, but your roof and your wallet will pay for such vanities later. Using a high powered pressure washer may strip the surface of the tile and shorten its life expectancy. Even at its lowest setting, water from the pressure washer will be far too intense for the shingles. 
2. DANGEROUS
Slip and falls from ladders are some of the leading causes of homeowner injuries. Safety comes first and this is not a safe way to go. 
3. RISK FLOODS/LEAKS
Pressure washing can potentially force water up between the tiles and into the roof space and has the possibility to open up and create a stream that leaks into your home. While using a garden hose to spray your roof from the ground up is an alternative, roofs are meant to withstand water falling from above, not shooting up from below. Spraying with a hose or pressure washing from ground level forces water up underneath the shingles and/or decking, which can lift the roofing materials and create leaks and deck rot. A typical roof is designed to withstand the elements, it isn't designed to cope with water being ejected from a nozzle at such high speeds. 
4. VOID WARRANTIES/INSURANCES
Pressure washing your roof could invalidate warranties or your homeowner's insurance. (check your warranties/policy or call your insurance company to be sure.)
CONTACT THE PROFESSIONALS
The safest and smartest way is to contact a qualified professional to assess the situation and offer some suggestions that will give you the results you want without any of the negative ramifications. It's tempting to want to get any moss, algae, dirt, etc. off of your roofing shingles but pressure washing your roof will do more harm than good. Yes, it will make it look sparkling clean, but you'll also end up replacing the roof sooner rather than later. For the health of your roof, wallet and yourself contact LEGACY GUTTER CLEANING for safe and thorough roof maintenance. At LEGACY, our technicians use a soft bristle brush to remove moss and algae by hand and then apply a moss treatment that will kill any remaining moss. 
CALL OR GO ONLINE TO SCHEDULE SERVICES AND LEARN MORE ABOUT OUR MAINTENANCE PLANS.